Podcast: Play in new window | Download
Subscribe: Apple Podcasts | Google Podcasts | Spotify | Stitcher | Email | TuneIn | RSS
Great cathedrals are places of awe and wonder, no matter your religious belief.
Whenever I visit a new place, I always go to the cathedral or church, or place of worship in the area. There is always something new and interesting to be found and you can get a particular sense of a region that way. I also love to take photos of religious architecture and sculpture, much of it crafted by devotion over many generations.
In this interview, I talk to Derry Brabbs about places of pilgrimage across Europe and why they attract so many, even those with no particular religious faith.
Derry Brabbs is one of the UK's finest public photographers with over 30 illustrated books to his credit. He's also an author and speaker, and today we're talking about his book, Pilgrimage: Great Pilgrim Routes of Britain and Europe.
Show notes
The popularity of pilgrimage in our secular times
The lesser-known routes of the Camino
The resurrection of stonemasonry to repair historic cathedrals
Highlights of beautiful churches and cathedrals
The joys of the unexpected on a pilgrimage
Seeing the world through a camera lens and learning to be in the right place at the right time to catch the light
Recommended books
You can find Derry at DerryBrabbs.com.
My book, Pilgrimage, Lessons Learned from Solo Walking Three Ancient Ways, is out now.
Transcript of the interview
Jo Frances Penn: Derry Brabbs is one of the UK's finest public photographers with over 30 illustrated books to his credit. He's also an author and speaker, and today we're talking about his book, Pilgrimage: Great Pilgrim Routes of Britain and Europe.
Welcome, Derry.
Derry Brabbs: Hi. How are you?
Jo Frances Penn: I'm good. It's so great to talk to you. Let's start by talking about why 'Pilgrimage' in the first place because you've written lots of books about heritage, and pubs, and churches.
What drew you to this particular topic?
Derry Brabbs: It was actually entirely by chance because, during the mid-'80s, I was doing a photographic project in Spain for a book on Spanish food and wine. And when I was in the heart of Spain, west of Burgos, I came across some churches that had references to St. James and also some old pilgrimage references and it tweaked a curiosity button.
But it was lodged in the brain and nothing happened. And I went on and finished that particular job. Years after that I was getting more and more architecturally aware because most of my work had been with landscapes. And the idea had just laid dormant for a few years and then I got very tied up working with the wonderful Alfred Wainwright, on books on the long-distance footpaths and, in particular, in the Lake District and that sadly came to an end after seven books.
Then I got to do my own illustrated book on the UK's abbeys and monasteries and that really got my medieval architectural interest going. And then from the depths of the brain, I remembered the pilgrimage route. And I actually put together a proposal to the publishers and they thought it was worth a go.
So that was my first book called The Roads to Santiago, and that was predominantly the four Pilgrim routes through France and then across the Camino Frances de Santiago de Compostela. And I was hooked.
Jo Frances Penn: You mentioned there about long-distance footpaths.
For all these books you've written, have you actually been walking the whole journeys including these pilgrimages?
Derry Brabbs: Well, now, here's a confession because as confession plays a significant role in the act of pilgrimage, I'm going to confess first and foremost is that no, in a word, because…
Jo Frances Penn: I was going to say it would take you a long time.
Derry Brabbs: Well, the thing is, I worked out that if I was actually walking all the routes that I'd written about and photographed, I'd still be there and I wouldn't have really got one book out.
But having said that, of course, you do a plan of campaign, you work out where you need to be and get from A to B. But, of course, when you've got A, then there are several miles to be walked to get to a certain location. You can't drive everywhere because a lot of it is off-piece, as it were. So, of course, walking has to be done. I did so enjoy the walking but you just have to be mindful of the clock ticking.
Jo Frances Penn: Oh, absolutely. And you actually have another book coming out, Great Pilgrimage Sites of Europe. So clearly it's popular.
Why do you think pilgrimage has had this resurgence even in secular times?
Derry Brabbs: The organization called the Confraternity of Saint James, which is very, very significant to all those wanting to do a pilgrimage. They're based in London. And it was actually formed in 1983, I think, by a group of friends who wanted to promote the pilgrimage to Santiago, and that's gradually grown.
But possibly more important was the establishment of the first cultural route by the Council of Europe in 1987 and they adopted the Camino Frances, so from the Pyrenees, to Santiago de Compostela as that first route. And, of course, with that came promotion, public publicity, and all of a sudden the roads of Spain on the route were adorned with bright turquoise signposts with the Council of Europe, stars dotted around it.
And that, I think, started the impetus going and then that was followed by, of course, UNESCO making the Spanish Camino a world heritage site in '93 and then 5 years later they incorporated the 4 French routes into the world heritage site listing.
It was all building a greater worldwide awareness with publicity and then people started writing about it. So it had dwindled to virtually nothing by the mid-'80s and then it gradually started to build up and it's just taken off.
A lot of people just take a week or two weeks' vacation and they do a section at a time. And also to actually get the Compostela, the document, which certifies that you've done it, you don't have to do the whole walk through France and across the Pyrenees, as people do, but do the last 100 kilometers on foot.
Jo Frances Penn: Yes. I learned about that. I was like, "How do you do this?"' And, in fact, it isn't the del Norte, the route from the North, that's the fastest way to do it. You come on the boat from the UK and then you can just walk that 100 kilometers south.
Derry Brabbs: Well, I think if you get to Santander on the boat then it's probably a bit further than that. And actually, the Northern route's got quite a few uncomfortable hilly bits and some up and down coastal routes. But they're all good. They're all good.
The last time I was on the Camino Frances, that middle section when you're going into the West of Burgos towards Leon and that section there, it's very flat and it's very exposed and there's not a tree in sight, and doing that in the middle of summer is not something to be really planned unless you absolutely have no choice.
Jo Frances Penn: It's interesting because, of course, a lot of people did pilgrimage for healing as well, didn't they? And we're recording this during the time of Coronavirus, so maybe there'll be a post-plague surge in people walking too.
Derry Brabbs: Well, there is that, but although you can keep 2 meters distance on the Camino itself, when you get to church and you want to go to mass, then you have the problem, don't you? So who's to say?
Jo Frances Penn: You mentioned the Camino Frances there, and that's more the well-known route.
What are some of the less-traveled routes in the book that you particularly love?
Derry Brabbs: The ones which I really enjoyed discovering for the first time was the southern route up from Andalusia up to Santiago de Compostela Via del La Plata, which a lot of people think is the silver route, which the Romans used to ship their silver down to the Mediterranean coasts. But I discovered that actually the Plata was derived from an Arabic word for a dusty road thing, and it certainly is that.
But it's unlike the Camino Frances, the main route. It's only just really starting to blossom, but it's very remote and it runs parallel to the Portuguese border up from Seville or wherever you start from the South of Spain. And it really is quite a hard slog in places because there isn't the infrastructure there yet.
It is happening slowly, but it's a wonderful, wonderful taste of Roman Spain, and towns such as Merida and Salamanca have got glorious architecture. And so, that was a great delight for me, personally.
I'd never really been to Germany and, of course, one forgets that the linking routes to Santiago de Compostela come from all over Europe, and one of the German legs, one from Munich to the shores of Lake Constance. And that opened up a whole new kind of architecture to me because I'd never really gotten in touch with German architecture and their Baroque churches were quite incredible and there's such a contrast to the Romanesque and the Gothic architecture that one is so familiar with.
And to open a church door and walk into this great gallery of art on every wall, every ceiling, every pillar, it really was quite fantastic. And, of course, the other one, which was quite an Epic of planning was the Via Francigena, which goes from Canterbury to Rome.
It's just a fairly straightforward little trip all the way from England over the Alps via the grand Saint Bernard Pass. And it's extraordinary. But it was the route first taken by the 10th-century Archbishop of Canterbury, Sigeric, who had to journey to Rome to collect his pallium from the Pope, and he decided on the return leg that he ought to document his journey.
And so, that's why they have all the routes that he took. And that's also been designated a cultural route and a world heritage site in places. But I think one of the problems they're having, particularly through France is that, of course, ancient Pilgrim routes probably largely followed roads which were established by the Romans and, of course, the French took the easy route going from North to South by following the Roman road. So if you wanted to follow the original route, you'd be on a French motorway and you'd be flattened.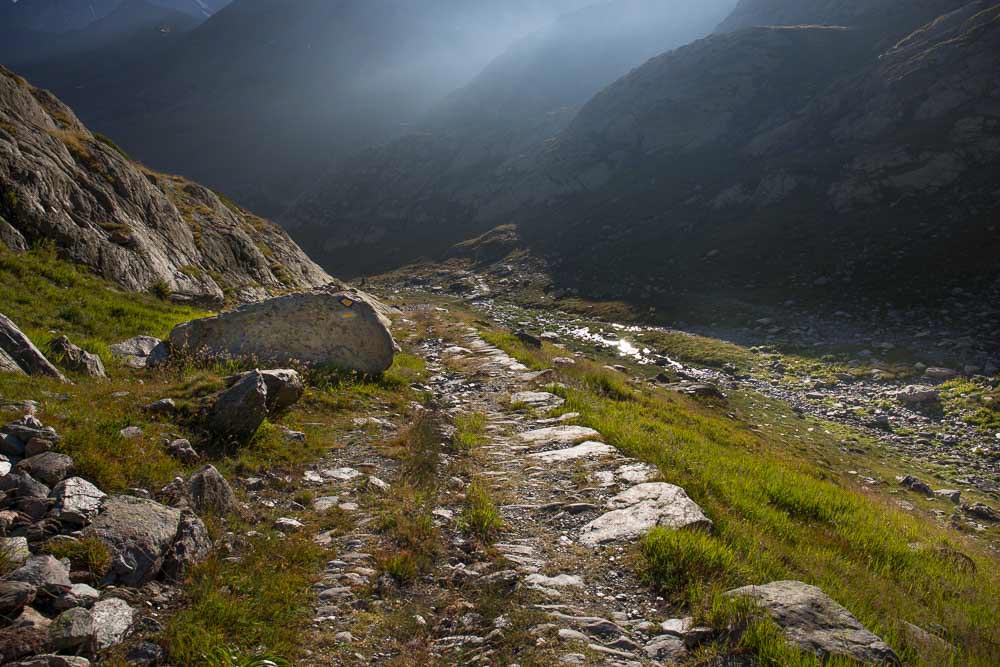 Jo Frances Penn: And it wouldn't be very pretty.
Derry Brabbs: No. They're just trying to create rural routes that run parallel to the original.
Jo Frances Penn: Coming to Canterbury then, because Canterbury Cathedral we've got this year is Becket2020, which is a celebration of the 850 years since the murder of the archbishops. It seems like it's the year for doing this kind of thing.
Derry Brabbs: Well, yes. The last time and it was quite recently, I tried to photograph Canterbury Cathedral, it was a festival of scaffolding, which is one of the drawbacks of doing what I'm doing is because sure as eggs is eggs, whenever I roll up somewhere, that there will be scaffolding.
And the trouble is we take for granted the longevity of all our medieval buildings and they are wearing away, and places such as Canterbury and many other cathedrals, they have actually now established their own stone workshops. They have a permanent team of artisan, stonemasons, and craftsmen who are replicating the work done by their medieval forebearers, so they're trying to keep the cathedral going and in one piece as it were, but seamlessly albeit with some glittering shiny new stone. But the style of the work that they're doing perfectly replicates the original stonemasons' work.
Jo Frances Penn: Wow. That's so great to know because I think you feel sometimes that maybe this craft has been lost because people would spend generations building one thing, wouldn't they? The craft was passed down and it's so great that that's still around. Certainly, the front of Bath Abbey could use some of that.
Derry Brabbs: It also varies from region to region. It entirely depends very much on the kind of stone which was used and so, it depends where a cathedral was located, the nearest stone core is of a viable material.
Some were more porous than others and some were granite and therefore able to resist the elements. But many other stones are quite soft. Sandstone was notorious for being able to crumble at the slightest hint of a shower of rain. But there we are.
When you think how old these magnificent cathedrals are, you just look at some of modern architecture and you think how many of you are going to be standing in 700 years time? And, you know, so there we are.
Jo Frances Penn: Going to the Sagrada Familia, for example, we won't even see that built in our lifetime.
Derry Brabbs: Or several other lifetimes if you don't get to move on.
Jo Frances Penn: It's still an amazing place.
I did want to ask about that because clearly you love the sacred architecture. You have many pictures.
What are some of the cathedrals and churches and shrines that stand out for you as particularly powerful or beautiful?
Derry Brabbs: One place which sticks in the memory greatly is Cologne's Catholic cathedral. It's renowned as a great pilgrimage destination because it houses the shrine of the three magi and it still exists.
So you go to this glorious cathedral with its pointed twin spires, which for many years were the tallest building in Europe, and you encounter this great jewel-encrusted golden shrine which was the original and survived the reformation.
It makes you realize how incredible it must've been for a humble medieval pilgrim to have gone through all the trials and tribulations of such a long journey and then to be rewarded with a great symbol such as that. It's just so sad that the reformation painted out all the wall paintings and destroyed all the wonderful iconography.
But as to the others, well, I was particularly taken by Siena's Cathedral in Italy as just a wonderful, wonderful black and white outside and inside. The craftsmanship on that is incredible.
The other thing which I found really moving was the south portal of Lausanne Cathedral, which has got sculpture of the most intense detail and it's retained some of its original partial coloring, which gives it an extra tinge and it's one of the finest versions of the assumption of the Virgin Mary I've encountered.
Assisi is just another place which is so fantastic because that's somewhere you really do have to approach on foot because it flows down the slopes of a mountain and you can see it from a long way away. And then right at the foot of the village, the hillside contains all the gleaming white stone buildings, and then right at the base is the Basilica and the monastery of Saint Francis.
The Basilica, there were actually two, there's the original Romanesque Basilica containing the tomb of Saint Francis and then there's the later Gothic one built on top. And every square inch of both basilica's are covered in the most wonderful wall paintings and frescoes. And it's just utterly amazing.
It is just one of those places, it's a dramatic landscape. The aura and the atmosphere inside the churches is absolutely serene and so respectful and they are, which is just incredible. So places such as those, they just make your journey worthwhile regardless of why you're there.
Jo Frances Penn: It's just so beautiful. I wondered, because you're a photographer, so you see things in certain ways, what do you prefer?
Do you prefer the ornate Catholic icons or the stark Protestant or even monastic lines that you get elsewhere?
Derry Brabbs: A bit of both, really. The Catholic versions can be quite ornate. I suppose, having been raised in the Church of England in true Protestant style, we have very basic altars and some of the more lavish Catholic altarpieces are quite incredible.
I do remember when I was doing Pilgrimage, in the center of Spain, there's a church called La Navarrete, and it's one of those where it's very gloomy and you go in and you can't really make out what you're looking at. But I was aware that the altarpiece was actually more than an altarpiece.
It was just the whole of that west end and they actually had an electric slot meter. And thankfully, I had a two Euro piece and was able to illuminate it up. And it was just the most gold I've ever seen.
There was this huge wall of sculpted gold with niches set all the way up to the ceiling with the various representations of the saints and the Virgin Mary was just above the altar itself. And it is reputed that much of this gold was one of the first batches brought back from the new world by Spain when they sailed across the Atlantic and did whatever it is they were determined to do. But it's just incredible.
And you always expect, when you go to the main cathedrals and the famous churches, you expect what you're going to get. You get the magnificent architecture and the artwork and the sculpture and everything else. But I think one of the joys of pilgrimage is the unexpected.
The other great feature of the pilgrimage, of which educated people as they went along and reminded them why they were doing it was the tympanum where you got the Christ in majesty at the top above the door and then below you would get the two options open to you.
You would have St. Michael the Archangel with a pair of scales weighing the souls of those people who are dead and appearing before him, and you would see the departed been carried aloft by some friendly-looking angels and their souls obviously ticked the right boxes.
And then on the other hand, you have some very nasty-looking creatures with wide-open mouths and nasty people with sharp spears pushing the departed into the jaws of hell, and those souls obviously didn't pass muster. But to the largely illiterate medieval Pilgrim, these were the messages that were driving them on, you know, "I've got to do it, I've got to do it, otherwise, I'm forever doomed."
Jo Frances Penn: It's true. There are some pretty gruesome things in some churches. Spain has some particularly nasty decapitations and boiling of saints and things like that portrayed on their altars, don't they?
I did want to say it's really good tip you mentioned there for having a couple of Euros to put in the lightboxes because that's quite common around the place, isn't it?
Derry Brabbs: It is. And it'd be lovely if actually it was more common, because one of the most frustrating things is going along and you find the interior of the church, which is dark enough as it is and then you rock up in normal hours out of service hours and there's just a 40 watt light bulb just dangling from the ceiling, and it takes an awful lot of hard work to do long exposures to get it.
And then it's doubly galling when you perhaps go back rather as a service on and the whole place is illuminated with wonderful chandeliers, but, of course, they're not available, they don't want to be running electricity. So, yes, if they all had a slot meter, they could make a load of money and just give you a quick glimpse.
Jo Frances Penn: Derry, I agree with you.
Because you are a photographer, do you think you experience the world differently because you see it through the camera?
Derry Brabbs: The world is the world is the world. My working life or a lot of it has just been working with or against… Actually, nature's often working against me, but I'm trying to work with nature.
With every year that goes by, you learn something new and I can't control the weather and I can't control the light. It's just a question of learning how to be in the right place at the right time.
The internet has been a wonderful boon for somebody like me because with the accurate weather forecasting that you get, it is possible to plan ahead, more than just a few days ahead and there's no point in going somewhere if you know that it's going to be dull and clouded because you need light to bring the stonework to life and for stronger light to come through the windows.
If you go to the fantastic and utterly mesmerizing cathedral at Chartres in France which is the world heritage site of the most fantastic stained glass in Europe and it has recently been cleaned, so it's even more beguiling, you need strong light to come through there so you get all the true colors.
And you look at the colors of the medieval stained glass and you think, "How did they do that?" Summer is my favorite time because the sun rises at 4:00, or earlier, and nobody in their right mind is up and around at 4:00 in the morning except loony photographers, which is really good because you won't find people wandering around.
When I'm trying to portray a wonderful medieval cathedral, what you don't need is a crowd of people with selfie sticks and umbrellas wandering around, so you have the place to yourself.
The way the church has always built is also helpful because you know that the east end of the church, which is not always the most picturesque is going to be lit at sunrise and the west end, which is where all the decoration is, is going to be sunset. So they're very considerate in that respect.
Jo Frances Penn: Wow. And you mentioned nature there and many of your photos are incredible landscapes. You mentioned Assisi, but anything else that stands out?
What are some of the most memorable places that have that landscape view that you visited?
Derry Brabbs: I don't know. Lots and lots of places. I think that the Grand St. Bernard Pass which takes the Via Francigena, over the Alps was fantastic. I still remember it well because it was in spring, late spring, but in the Alps, there was still a lot of snow around and I flew into Geneva Airport and everybody collected their luggage and I watched the carousel go round, and round, and round and my bag was not on it.
So I had to go through the ritual of reporting a lost bag and all that stuff. The only drawback was that I was traveling in shirt sleeves with just a sleeveless puffer gillet. My tripod and my walking boots were in my bag and I was due to pick up a rental car and drive over the Alps and return back in three days. So I thought, "Okay. Well, we'll go for it."
I went and I had a room booked at the Pilgrim Hostel at the summit of the Grand Saint Bernard Pass and I arrived in the fog. It was dark, there was snow everywhere. And I went out the next morning and, of course, everybody else is in snow boots and thermals and everything else and then the crazy Englishman appears in his shirtsleeve and starts slithering around, taking photographs and they just looked at each other with that knowing look, the English.
But it was quite interesting because the pictures were a bit okay and a bit bleak and truly represented the Alps. But I got the chance to re-photograph it a few months later, not through choice, but because somebody stole my camera bag complete with my passport and the memory card from my camera with a week's work when I was near Milan airport.
And so, I actually ended up going back to the Grand Saint Bernard Pass and it was when all the snow had gone. So it gave me a whole new perspective and the road, the Pilgrim road, which is the old Roman track, which goes over the Alps and approaches the Pilgrim settlement right on the summit, it was kind of wonderful because I was able to actually feel and see the ties treading on the stones that the Romans and centuries of pilgrims' and possibly even an Archbishop Sigeric could trodden on. That really brought the whole pilgrimage thing to the fore really.
The other place that I have to mention, which is not actually on the Via Francigena, but it's a very, very minimal detour are the marble quarries, the Carrara where all the great sculptors used to get their stone from. And it's an incredible network of quarries scattered all over the place and you looked at these sheer rock faces of claiming stone and you just think of Michelangelo and his Pietà, which is the most awesome work I've ever seen.
It's the first thing you see when you enter Saint Peter's in Rome and you just look at the soft folded fabric of the Virgin Mary's cloak cradling her dead son in her arms and you think, "How did he create that from one block of stone?"
Jo Frances Penn: I love that sculpture. I also have photos of that, and like her lips. She looks so young. I think that's what's kind of strange about it. She looks about the same age as Jesus, but it's an incredibly beautiful sculpture.
Derry Brabbs: When you look at work like that where stone actually feels as though it has the texture of fabric, you just stand with your jaw-dropping loudly and thinking, "How did he do that?" And, in fact, I think it was the only work that Michelangelo actually signed himself because there were so many doubters that somebody of his young age could have accomplished such an amazing piece of art.
Jo Frances Penn: It's interesting you talked about your camera getting stolen and some of the issues with travel, but as I said earlier, we're recording this at the time of lockdown and we can't travel.
What do you miss about and what does travel mean to you and your creative work?
Derry Brabbs: I'm not a photographer that goes wandering around with a camera looking for likely targets. So I'm more targeted I suppose. I do enjoy traveling around and I do have my camera with me because as I said previously, nature throws up some amazing sites when least expected and you never know when you're going to encounter them.
Doing the latest book, The Great Pilgrimage Sites of Europe, because I've expanded the horizons so much and I've even gone to places I haven't visited before such as Scandinavia, and Poland, and Slovakia, it really was an awful lot to accomplish in just 12 months. So it really was kind of a military operation getting all the flights booked. And one thing I have to say is that I am so eternally grateful that I did it in 2019.
Jo Frances Penn: Did you finish it? Did you finish all you needed to do?
Derry Brabbs: Yes.
Jo Frances Penn: That would have been annoying.
Derry Brabbs: So when things started to go a bit unpleasant for Europe earlier this spring, I was glued to my keyboard trying to grapple with the text with all the images safely in the bag.
Jo Frances Penn: It's great that you're doing some of these lesser-known places because I feel like France and Spain and Italy get overdone because they're the ones everybody knows about. But there are some really interesting, weird sites, aren't there, in Eastern Europe and Northern Europe?
Anything weird you can tease us with so we can go and get the next book?
Derry Brabbs: I don't know about weird, but the greatest treat for me was to go to Poland. And there's one great feast day in the Catholic calendar and that's the assumption of the Virgin, which is in mid-August. And, of course, I have one chance to do it and not decided to go to Poland and do it at this wonderful monastery of Jasna Góra, and it's just incredible because there's this iconic painting which is the national shrine of Poland, and the people who go there, it was incredible.
The day before Pilgrim groups from all over the country kept arriving and there's a long avenue, which is about a mile and a half long and going straight through the town and up the hill beyond. And it was just an incredible sight. The sheer devotion of the Polish people, one is aware of Catholicism having such a stronghold in Italy, Spain, and France, perhaps, but to see it in Eastern Europe was quite incredible.
It's just such a wonderful church and this great fortified monastery; it really was with 15-foot thick walls and it was built to protect this wonderful iconic painting. And she, along with, I think it's the one in Santa Maria Maggiore in Rome, they're both supposed have been painted by Saint Luke himself.
Jo Frances Penn: Can you believe that?
Derry Brabbs: But unfortunately, you get things like the scientists and the forensic experts who do tests on things like this and they say, "Well, sorry, lad. It's only the 12th century. But there you go."
Jo Frances Penn: It's all about faith at the end of the day, isn't it?
Derry Brabbs: Well, it is. And this is the great thing, that regardless of what one's personal beliefs are, all these churches and the whole act of pilgrimage or just going down to your local church and having a conversation with the Virgin or whoever it is your devotion is targeted towards, it doesn't matter because that's what matters to that person and that's entirely their business. It's their private world.
Whatever gives people comfort, particularly in these terrible times that we're enduring at the moment, that's to be praised and to be respected at all times.
Jo Frances Penn: Indeed.
Apart from your own books, can you recommend a couple of others if people are interested, either photography or about pilgrimage or places of faith?
Derry Brabbs: One book which I found hugely entertaining, very readable and very helpful, was just a book called Pilgrimage by a gentleman called Jonathan Sumption and he actually recently was a Supreme court judge in England. But I think it was the first book he wrote.
It's just about the whole ethos of medieval pilgrimage, how it evolved and it's just such an entertaining and enlightening read.
If want to read up about the pilgrimage road to Santiago there's an American author called David Gitlitz who did a very large book, but it is not as a weighty tome in an academic kind of a way, but a very enlightening guide for anybody who wants to really brief themselves well in advance.
And for a big picture book which is an absolute joy to look at, it's a book called The Madonnas of Europe and it's by a Polish photographer called Janusz Rosikon, and he covers some of the places I've been to, but many, many others such as pilgrimages in Greece and lots of other far-flung corners of Europe.
It's not all about the Virgin Mary, but everybody has their own icons and the documentary photography is just fantastic. And I just keep looking at that and thinking, "I must go there one day."
Jo Frances Penn: That's how I feel looking at your books.
Derry Brabbs: That's very kind.
Jo Frances Penn: They're fantastic. So where can people find you and your books online?
Derry Brabbs: Well, there is a Facebook page with my name attached to it and my name will direct people to my website, DerryBrabbs.com
Jo Frances Penn: Well, thank you so much for your time, Derry. That was great.
Derry Brabbs: Well, listen, thank you very much for inviting me. It's a great pleasure and a huge privilege to be incorporated into the creative world of Joanna Penn.