Podcast: Play in new window | Download
Subscribe: Apple Podcasts | Google Podcasts | Spotify | Email | TuneIn | RSS
Peter Fiennes talks about his search for beauty — and hope — in Greece. We discuss the different areas of the country with recommendations for ruins to visit, as well as how the ancient Greek myths still resonate in modern times, with their tales of the darker side of humanity. 
We consider whether generations of belief can somehow imbibe specific locations with spiritual meaning, and how a realization of our place in history can give us hope that things live on — and that life is to be celebrated, even in difficult times.
Peter Fiennes is the author of four non-fiction books, including Footnotes: A Journey Round Britain in the Company of Great Writers, and A Thing of Beauty: Travels in Mythical and Modern Greece, which we're talking about today. 
Show Notes
The unique and varied landscape of different areas of Greece
Finding beauty in ruins
Consulting the Oracle of Delphi
Do landscapes resonate with the belief of those who have come before us?
Why ancient myths still hold meaning in modern times
Attractions of modern Greece
What travel may look like in the future
Recommended travel books
You can find Peter Fiennes at One World Publishing
Transcript of the interview
Joanna: Peter Fiennes is the author of four nonfiction books, including Footnotes: A Journey Round Britain in the Company of Great Writers and A Thing of Beauty: Travels in Mythical and Modern Greece, which we're talking about today. Welcome, Peter.
Peter: Hello.
Joanna: Thanks for coming on the show. I'm very excited to talk about Greece because it's getting quite wintery at the moment. So first up, why Greece?
You've written several travel and nature books about the U.K., what drew you to Greece?
Peter: I suppose I wanted to write about beauty. My book's called A Thing of Beauty, which is a quote from Keats, "A thing of beauty is a joy forever." And I suppose I was suffering from excess, like many of us, of ecological environmental angst and concern.
I wanted to go to the most beautiful place I could think of. Also, because of the myths, I've been fascinated by the myths ever since childhood. I wanted to see if there's anything in the myths, anything in the old Greek stories that could shed some light on our current predicament.
Joanna: Do you have a history with Greece? Have you traveled there a lot?
Peter: I used to go. My first family holiday was in Naxos when I was 14. So I know Greece a bit, I've been to Crete, I've been to the islands mostly, I've never really traveled around the mainland of Greece. Athens, I'd fly into Athens…like many people in the U.K., I would fly to Athens and get on a ferry to the islands, but kind of ignore mainland Greece.
So yes, I've always loved Greece. I love books about Greece. The thought of Greece, its philosophy and culture, and everything fascinates me about it. But no, I can't claim to have known Greece really well.
Joanna: Let's just talk about the geographical areas. If people haven't been, many have that iconic picture of maybe Santorini; white houses and blue sea. But there are many different areas.
Tell us a bit about each area and why they're so different, and how they're so different from each other.
Peter: As I said, I knew the islands. I think that's what draws everyone, the sparkling blue sea and chugging up in the ferry, and the beaches, of course, and that's what we know. But actually, every part of Greece is so different.
One of the most extraordinary things about Greece is, because of its geography, it's actually a very small country. The main bulk of Greece is tiny, but it's so divided by valleys, and gorges, and mountain ranges that Athens and Thebes, for example, two great centers of myth, are a day's walk from each other, about 25 miles away. Everything is really packed in but you wouldn't know because of the geography of the place.
The Peloponnese, which is the main bit that hangs down with its three fingers, is extremely varied. In the middle, you've got Arcadia, which is evocative, but it's full of forests and running rivers and everything. And then the coastline is extraordinary. The beaches are like anything you'd find on the islands, amazing cities, amazing ruins everywhere.
Then up in the northwest, where I spent a bit of time, you've got Epirus, which is famous for its gorges and also famous for its old stone bridges, the people who live there are famous for building bridges. And that's beautiful as well. So there are so many different parts of Greece that I was extremely lucky to get to.
Joanna: Even the islands themselves, I think people think about the islands that are further south, but like Corfu, which many people might have seen in The Durrells and that kind of thing, that's actually pretty far north, isn't it? Even the islands themselves have a very different, not so much landscape, but weather.
Peter: Yes, the islands because they spread all around Greece and right up to the Turkish coast, and some of them are bare rocks, and others like Corfu, as you say, Corfu faces Albania and made famous by The Durrells in the north. The northwest of Corfu is just a beautiful series of beaches and wonderful tavernas. And it's a lovely place, magical.
Joanna: Funnily enough, we were going to Corfu during one of these many lockdowns and everything and just didn't go because of all the testing requirements. So I've certainly been dreaming of Corfu.
Let's also talk about ruins. I'm definitely a fan of architecture. And again, people might have in their minds the Acropolis that would be one of the most famous ruins.
What are some of the ruins and remains of ancient Greece where you found beauty?
Peter: I went to ancient Olympia, and if you haven't been, do go there, it's absolutely extraordinary. It was silted up by the river and lay hidden for centuries. But they rediscovered Olympia in the 19th century and have been digging down ever since.
So much of it remains, it's so evocative, it's surrounded by wooded hills and yet you've got the old stadium where you can imagine the Olympic races being run. So that's a beautiful place, it's amazing, Acrocorinth it's called.
The Old Corinth, which is their old citadel, you're high up on this hill looking out all across what feels like most of Greece with the sea all around you. It's absolutely beautiful. And then right to the top, there are ruins, there's the old spring. Down below there's Corinth itself, which much of it remains. There are seven columns of the Temple of Apollo remaining.
But Delphi, if you haven't been to Delphi, I actually consulted the oracle at Delphi. But that's still there. There's so much remained, it's just staggering. The theater at Epidavros, they still put on shows there.
It's over 2000 years old, they have shows at this most magical theater, stone step theater, where the acoustics have to be heard to be believed. I was there during the pandemic while we were in-between lockdowns. There were very few visitors at that time.
I remember vividly one woman, she had a 7-year-old daughter or something, who was sitting right at the top next to us on these stone steps and she went all the way down and dropped a tiny little pebble, you could hear the sound just rippling up the steps. And then she started to sing some old choral songs, and that was a moment of beauty.
Joanna: I love ruins. Why do you think we find beauty in essentially a dead civilization, whereas we might find less beauty in the more modern side which is full of people and rubbish and life?
Why do we find beauty in ruins?
Peter: I do chew over the idea of beauty. Obviously, beauty is culturally learned, so our ideas of beauty. The Greeks laid down very specific ideas about what beauty was and the way the temple should be constructed and proportions and everything. We carry that with us. So that's partly it.
And of course, the setting, where nature meets man's works, that's beautiful in itself. And then there's something about the ache of what we have lost as well because these are crumbling ruins. They don't really look anything like what they would have looked like, even the most well-preserved ones were once covered in white marble and painted.
Generally, really they were really florid, the statutes are not what we think they were. People now know they were vividly painted with gorgeous colors we can imagine. So their idea of beauty is very different from what we've somehow managed to inherit. But there's something about the way the Greeks did know where to place a temple and make it look absolutely like it should belong. I suppose it's the blend between humanity's works and nature's that's appeals to us.
Joanna: I love that you mentioned the color there because traveling in India and seeing the colors of shrines there, or the Filipino Catholic tradition where they use a lot of color. And I feel in our British tradition, we don't have so much color in our religious tradition, whereas that that does still remain in a lot of cultures. So it is funny, isn't it? People obsess around these white columns when actually everything would have been painted.
Peter: It would have been glittering with gold and mosaics. And the paint, of course, is gone. So that's the first thing to fade over the thousands of years as the rain gets to it, and the paint goes, but it would have been a very, very different experience from what we imagine.
Plus the dancing, and the shouting and the incense rising and the bellowing of the sacrificial animals. It would have been a noisy, vibrant thing to go to one of these temples, and we wander around in hushed reverence, but it wouldn't have been like that at all.
Joanna: Absolutely.
You mentioned you went to Delphi and consulted the Oracle, so tell us a bit about that and why that's important.
Peter: The undercurrent of the book is hope. And because I did sit in Lord Byron's gardens in Nottinghamshire in the rain, and with the pandemic raging. I meant to be in Greece for a long time and I couldn't get there.
Instead, I was getting depressed about the news, which keeps coming in about, well, we're in the middle of COP26 at the moment, all the desperate news about climate chaos and everything. And so I just thought I would go to Greece and see if I could find hope or some messages in the old myths.
One of the myths that I became preoccupied was Pandora's jar or Pandora's box as it's been mistranslated. And that's the one where she arrives with a jar from Zeus and is told never to open it. And, of course, she does.
Until that moment, there's no war, or death, or disease, and all the evils of the world fly out, but the only thing that is left is hope. Then the debate it raises is whether hope was left in the jar or instead fluttered out among us? I rather literally went looking for hope.
So I found a question for the Oracle of Delphi because you had to be very specific with your questions because you can easily get misled by the answer. I asked, it got translated into ancient Greek for me, which I'm afraid I didn't speak, 'Where can I find Pandora's hope?' I asked.
Then I found a priest of Apollo on the internet, I'm afraid, and so my consultation, he assured me that the appropriate libations were poured because he lives in Delphi, and the question was asked, so I got my answer back. Then I went to Delphi and, in fact, met him and had an amazing time in Delphi.
Joanna: You have to tell us, is hope among us then?
Peter: Well, the answer from Delphi is predictably, slightly…well, it's quite a long answer, which concludes, without giving the whole thing away, know yourself, which is the famous injunction at Delphi. We have to look inside ourselves for sure.
But everyone I met in Greece, I would ask, 'Where's hope? Do you have hope for the future?' Because this was a terrible time for everyone, and Greece, it's been terrible anyway because of the economic collapse and so on. I got some amazing answers from taxi drivers and hotel owners, and I met a shepherd in Arcadia and an activist. I spoke to many conservationists and activists about where they would find hope amongst what seems to be relentlessly bad news.
Joanna: It's interesting because, of course, the people would go to the Oracle of Delphi and ask these questions. And there's a place, isn't there, where you can stand and there were temples and everything where people actually used to go through, sort of, more of a hole in a rock, I guess, where the Pythia would sit and pronounce — presumably a little bit on some drugs.
Peter: That seems to be the consensus today.
Joanna: What was it like in modern times? You were trying to tap into those ancient vibes, but what is it like now?
Is the veil still thin at Delphi?
Peter: It felt that way to me. You can think yourself into that mood anyway. Delphi feels authentically holy. It was one of the great pilgrimage sites for hundreds of years. And then, of course, it wasn't.
You're high up, the view is staggering, the sunsets and sunrises are unbelievable. And it seems to be drenched in some kind of spirit. Of course, we bring our own feelings to these places, but I felt other people wouldn't necessarily feel that way. So we're very influenced by what we're thinking at the time or reading. But there's something about it.
As I said before, they knew where to place their buildings and their holy sites, the Greeks. Just getting there, they would have had to walk, of course, but just getting there and twisting up that mountain feels like you're going somewhere really special, despite the coach parties and everything else. And when I was there, there were fewer people there, but still, it's a busy place.
Joanna: Yes, it's interesting, isn't it? I feel that emotions from people can imprint into a place somehow. And that like you say, people bring their expectations to that place.
If hundreds of thousands, or millions of people have brought their expectations to that place to speak to the gods over thousands of years, then it makes sense to me that it would still feel like a holy place, even though that's not your religion. It's a feeling that it's almost come through time.
Peter: It's an interesting thought, isn't it? Many people would believe that. And the landscape itself has, sort of, soaked up our experiences. As they say about the Somme, if you go there, you can feel a chill of what happened there.
It's a really interesting question that I chew over throughout the book, what is there and what isn't? And of course, I don't know, there are places in Greece which probably held sacred places that we just walk over without a second thought at the moment as well.
Delphi has an aura. There's no doubt about it. Of course, we've heard about it all our lives, so you're aware of it, but it's a magical place, anyway. And there's something about the trees there, as well. They feel vibrant with meaning and messages, and I had a very moving time.
Joanna: I'm sorry I keep coming back on this. I think about this a lot. I just did the St. Cuthbert's way to Lindisfarne, and I'm not a Christian, but I walked across the sands to Lindisfarne and watched the dawn over Lindisfarne, even though, like you say, there was a coach party, there were loads of tourists.
There's a spiritual side of that place. Have you felt that? I've only felt that in a few places in the world really, and you've traveled a lot as well.
Are there other places where you've had a similar feeling?
Peter: In my book Footnotes, I went around Britain trying to experience similar things. And yes, there are certainly places where you come prepared for them as well. So I suppose that's what I'm saying, your mind is open to it.
Perhaps when you get to Lindisfarne as well, you're already half-open to the idea that this place is holy. But there's a surrealist writer called Eiffel Cahoon, who lived in South Cornwall, who wrote about that place where indeed the landscape veil is very thin, she wrote, and it does feel that way. And it's partly because there's no one there most of the time. So you can walk alone, and you feel it. But there is something there.
There are standing stones there and it feels ancient and important in some ways. So yes, I do believe it. I'm kind of alert to what I'm bringing to it. And particularly writing a book on this subject, you don't want to kind of go finding it just because you're looking for it, if you see what I mean.
Joanna: I do believe in preparation, but sometimes the most preparation results in a pretty empty experience. It can go either way.
Coming back to the myth, so you mentioned Pandora.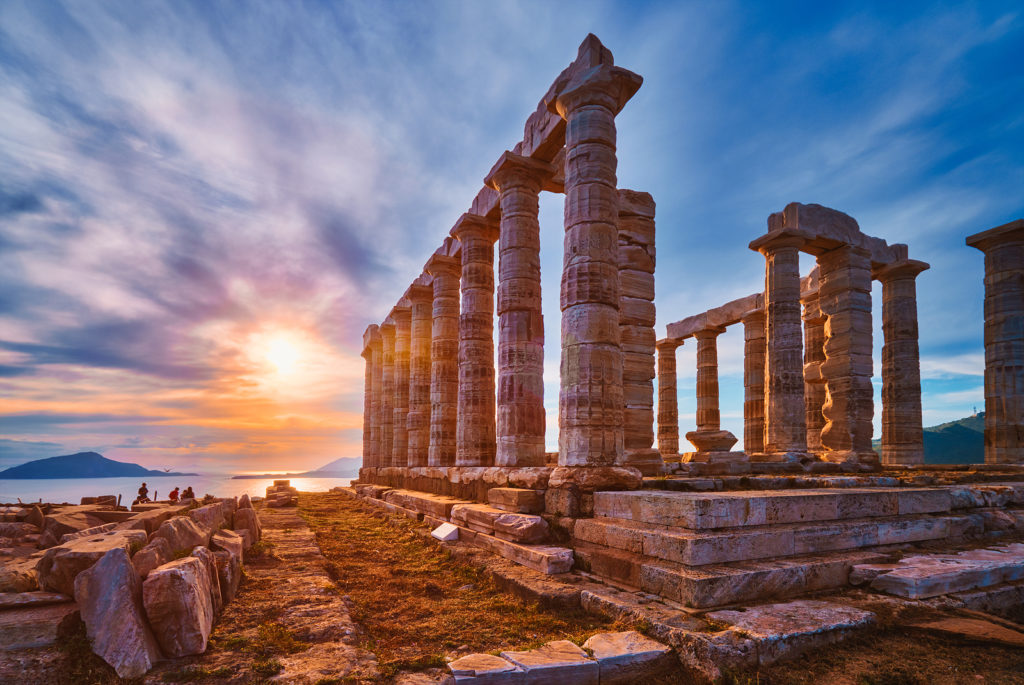 Were there any other Greek myths, in particular, that stick in your mind?
Peter: If you go to Mycenae, for example, that is amazing to see because that is where Agamemnon was killed, and so many myths were, and Cassandra was there. And that feels rich in myth.
I went to a place called Metamorfossi Beach, which is south of Epidavros. And that's apparently where Theseus' son was killed, according to Euripides, when a bull rose from the sea. You go to these places, and of course, the coastline has changed a lot over the years, so you don't really know whether you're quite standing there.
Euripides describes a salt lake, an inland salt lake, and that's there. And that's a really magical place. Went there looking for the goddess Artemis, who was meant to dwell on the edge lands of things, and that was a moving place.
Epidavros, I've mentioned. There's a fantastic myth, which is in certain Thessaly about a Thessalian prince called Erysichthon who chops down a sacred tree and is punished by the goddess Demeter by being made hungry, and the more he eats the hungrier he becomes. In the end, he runs out of things to eat so he eats himself.
That seems to be bringing a message for us at the moment. The thing about Greece, you go to Arcadia and Pan is on the mountain and because it's in your mind, you are thinking about it all the time, but it's just there, you feel so close to all those myths.
As I said, Greece is not big, but it takes a long time to get around because of the geography. And everywhere you turn, it feels like there's a new myth, and Corinth, of course, and Thebes, and goodness, there's no end to it.
Joanna: But it's interesting because we're educated in a Western, classical tradition. But I also studied Greek in classical civilization and I've always been pretty obsessed with the darker mythological stories. As a teenager, I went to a performance of The Bacchae at one of those Greek amphitheater things, as you said, with the amazing acoustics, and that has stuck in my mind. I've even put a bit of it into my novel Tree of Life.
But that horrific side of myth, and the plays of Euripides, and all of those writers, they still resonate in modern times. Is that just the human condition stays the same?
Peter: They do resonate and that's the incredible thing, here are some of our first plays. And only a fraction of them survived, some might count that as a blessing, but 95% of all the literature has been lost.
But yes, they do resonate, and partly because our culture is built on that. But they change with the times, that's I think the thing about myth, and indeed those plays, ancient stories, we all bring our own current concerns to the myths, and myths are quite slippery, in they're ever-evolving. That's what I find fascinating about them.
There's no right version to any myth, there are always more versions that Euripides would tinker with the version, and sit with the other playwrights, and Homer, and all of them. So there's no set text of myths, which is actually quite a relief in the end.
Ovid brought his own versions of them along as well. So they're still incredibly powerful to this day, and it's partly because we can always see things in it. Whatever our current concerns might be, the myth has something in there for us and that's what makes them a myth.
Joanna: And a lot of them are very violent, and just the stories, and even a film that a lot of people will know about Greece is 300, the Spartans and the violence of that era. And of course, a lot of the myths are about the gods.
The picture that Goya is painting of Kronos eating his children also, it's like all these haunting, dark images.
Is it that we crave stories about that kind of thing because it's not our experience, whereas back then it kind of was more of a daily experience?
Peter: Violence was definitely a daily experience for them. As was slavery. All these incredible civilizations were founded on slavery, and then the brutal enslavement of others, they're constantly fighting each other and capturing each other.
Violence was a daily reality for them. I suppose that's one part of the myth is that the myths of violence because their lives were violent. But the myths are beautiful because their lives were beautiful and lived with extreme intensity as well, I suppose because certainly, their concept of the afterlife was really different from ours.
There's an ode by Pindar where he writes, 'How about you just have to live in the moment because we don't know what's coming next, but it's not going to be as good as this.' They loved life, they gloried in it and celebrated it. But it was extremely precarious; the rates of death in childhood and so on, and in childbirth must have been staggering. But it was a place of beauty as well.
Violence and beauty combined, lived with intensity.
Joanna: Maybe that is hope for us too. I find that, as you've mentioned, some of the challenges facing the planet can lead you down into these darker places. And yet that message, which is things live on and life is to be celebrated, is also universal.
Peter: It's always good to remember these amazing works of art and architecture and engineering miracles that emerged out of constant warfare and a plague coming.
There's this terrible plague that hit Athens that is written about and descriptions of a third of the city dying in the most violent and horrendous manner, throwing themselves into the wells in the city just because their thirst was raging. It puts COVID into the shade.
And yet all this incredible stuff emerged at the same time. So it's good to remember that. I'm chewing over this idea all the time in the book — is what we are facing very different from what they experienced, or is it the same, essentially the same?
Everyone always feels that they're living in apocalyptic times. But it feels worse now, but maybe that's just us. But of course, we're so much more aware, aren't we, of what we're doing to the planet and what's happening to it, which they wouldn't have been.
And I think also, which sounds strange because Greeks talk about change a lot and how everything is always changing, they had a greater sense of stability than we probably do. The earth feels to be shifting under our feet at the moment because we're so aware of forests going up in flames of where we look, particularly in Greece, and California and everything that's been going on.
This is producing a shift in us, I think, of the way we see things. Whereas they would have probably woken up every morning and thought, 'Well, essentially, things are the same, even if our city's under siege,' or whatever is happening. The essential facts of the world are not changing.
Joanna: I totally agree with you. It's back to Pandora's box, the curses and the blessings. You and I talking, even though we're both in the U.K., we're talking on Zoom, and Zoom is both a blessing and a curse. As you're saying, the knowledge of what is going on in the world can make you very anxious.
Equally, I wouldn't give it up to go back and live in modern Greece, as you mentioned, it's not just slavery, women weren't considered worth anything, either. So I would much rather be living in our times than back then.
Peter: With all the modern medicines.
Joanna: Yes, exactly. This is the thing, though, isn't it, the curse of knowledge.
Let's just move into modern Greece because, obviously, you write in the book about the people you spoke to, the modern Greeks.
What were some of the things that you noted about modern Greece?
Peter: It is the friendliest place in the world. That's easy to say. It is. Traveling around Greece, and they're well used to tourists now, of course, but just it's friendly.
It's jaw-droppingly beautiful, and the beaches are the nicest and most gorgeous you can find anywhere. And the food, which always used to get a bad rap, but particularly if you like Greek salad. I could eat Greek salad every day for months, but there's much, much, much, more to it than that.
There's no end to the beauty of Greece because of its geography, because of that extraordinary coastline, the islands, of course, island hopping, what could be nicer? And then some of the national parks. I was bird-watching flamingos in Greece and that was beautiful.
Joanna: Flamingos?!
Peter: Flamingos in Greece, yes indeed, flamingos, cormorants, you name it, they're all there, merlins. There's different parts to Greece that you can get to easily. And it's so well worth getting off the tourist trail.
I went to a staggering forest. The forest of Foloi, which is north of Olympia. And it's mostly a locum beech forest. And it's where actually the centaur Pholos lived, that's what it's named after, who was accidentally killed by Heracles. It's a beautiful place, and you can just wander through there and you won't see anyone else.
Joanna: We're talking about the environmental problems, but we're people who love travel.
What does travel mean to you in these pandemic times? And will that be changing for you in the future, do you think?
Peter: I've tried to change it anyway. It's so difficult, isn't it? To get to Greece, in the end, I flew to Greece and back because time was so short. This time, I was trying to go by train. But it's really difficult.
Travel, as everyone says, it opens the mind. And I love to travel, and I just will try and travel more likely, if I can, and tread carefully. But I've had this question cropping up all the time in my book, 'What are we supposed to do?' It's really hard. We need things to be in place to make it easier for us to travel without causing so much damage.
Joanna: It's so interesting you mentioned about flying there. Just even to walk St. Cuthbert's Way, I had to get to Berwick-on-Tweed, which for people who aren't British, it's not that far away. But to get there by train, it cost me five times as much as it would have cost to fly up to Edinburgh and then just get the bus. I got the train, but it was ridiculously expensive.
And I have started to see now that the train routes in Europe are starting to come back. They've also now introduced a cheaper rail ticket to Edinburgh from London. So I'm encouraged that if more people want to travel in a different way that we're going to start seeing the infrastructure that comes in. I still feel, like you said, it's really cheap to fly from Britain to Greece.
Peter: It's ridiculously cheap to fly. It's much cheaper to fly to Athens than it is to take the train to Edinburgh. And that's wrong. Obviously, we need pressure from all of us, from below as it were, for our votes and activism. But we also need governments just to do things, to put the rules in place that will make it much easier for us to do the right thing. It's a really hard one there. There's so much more interest in that. And traveling by train is a joy, of course it is. Walking holidays are wonderful. But traveling in Europe is a lot easier than in Britain.
Joanna: Oh, absolutely.
Apart from your own books, what are a few books about Greece or travel that you recommend?
Peter: Mary Renault's books. The Bull from the Sea, The King Must Die, they're her retellings of the ancient myths. To start with The King Must Die, is an amazing book written in the '50s about what happened to Theseus, and then you get to the minotaur and everything. But it's as though it was a real thing. So it's a brilliant book.
There's a great book by Henry Miller, The Colossus of Maroussi, written I think just before or during the Second World War, and that's an amazing travel book. He was friends with Lawrence Durrell, and so he pops up in the book as well. That's well worth reading.
I like fiction and Natalie Haynes, she's written some fiction based on the myth of Oedipus. And also Madeline Miller, Circe, The Trojan Women. There's some really good historical fiction being produced at the moment, based in the myths but making them feel real. So I think going to travel to Greece, I think it's really worth reading the fiction as well as the travel books.
Joanna: Absolutely.
Peter: Patrick Leigh Fermor, of course, is the classic one. But really, there's so many brilliant books out there.
Joanna: What about any modern Greek authors?
Peter: There's a brilliant collection of short stories. It's in English, it's called Something will Happen, You'll See, which is short stories set in Athens by a writer called Ikonomou. They're beautiful little short stories, and I would start there if I were you.
Joanna: That's fantastic.
Peter: Also Zorba the Greek, which has been reissued by Penguin Fables. It's actually a great book. It feels like it goes on slightly too long, but it's a really good book and not nearly as silly as the film.
Joanna: Brilliant.
Where can people find you and your books online?
Peter: I am Peter Fiennes. I'm @pfiennes on Twitter. And they're published by One World Publications. So you'll find everything about me on there.
Joanna: Fantastic. Well, thanks so much for your time, Peter. That was great.
Peter: Thank you very much.