Podcast: Play in new window | Download
Subscribe: Apple Podcasts | Google Podcasts | Spotify | Stitcher | Email | TuneIn | RSS
In September 2022, I walked the Camino de Santiago along the Portuguese Coastal route. It was around 300 kilometers from Porto in Portugal north along the coast and then inland to Santiago de Compostela, Spain, which took 14 days of back-to-back walking.
I walked alone and carried my pack with everything in it, and I organized my accommodation through Macs Adventure so I knew where I was sleeping every night. I've posted a day by day breakdown of the route and my gear list separately, and in this episode, I go through some of my lessons and thoughts from the Way.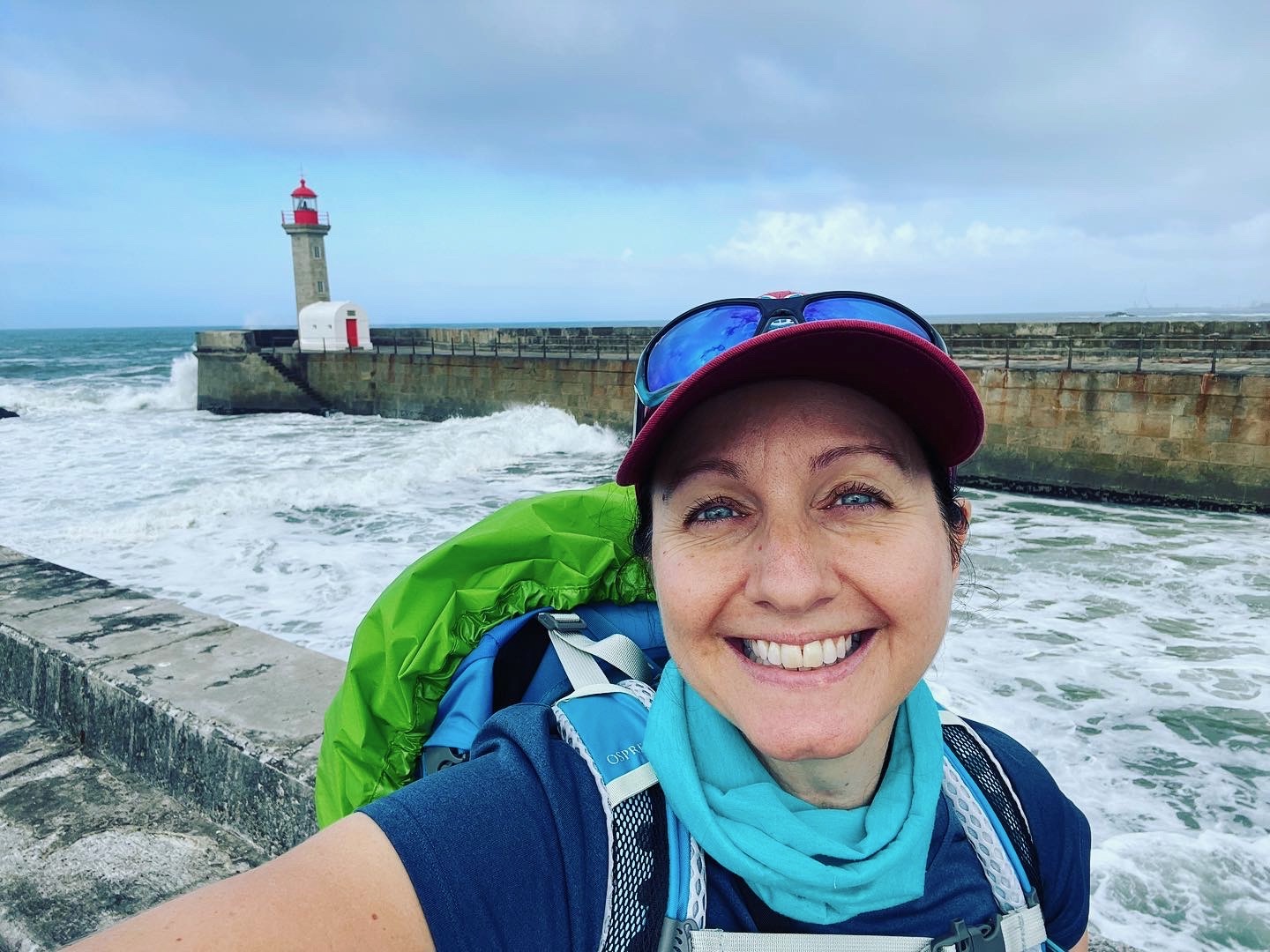 Show notes
How walking in the path of history puts life in perspective
If you've lost direction in life, pilgrimage can help
Pilgrimage proves you can do hard things, and that knowledge helps back in your daily life
A fusion of sacred and secular
The Camino is an industry — and it always has been
Your Camino, your way.

Practical considerations and tips.

Why I needed these last years of walking alone across a seasonal change in my life
You'll find additional reflections and tips in Pilgrimage: Lessons Learned from Solo Walking Three Ancient Ways, out now at jfpenn.com/pilgrimage.
(1) Walking in the path of history puts life in perspective
The cathedral at Santiago de Compostela is almost a thousand years old, and pilgrims have been walking there since medieval times from all over Europe. I started in Porto, Portugal, with its historic center and cathedral on the banks of the river Douro. 
The route heads north along the coastline past Roman fish-salting vats, and at Matasinhos, there is a sculpture of women wailing as they look out to wrecked boats on the horizon where their fishermen husbands lie beneath the waves. Life retains a familiar rhythm through the ages and some aspects of being human never change.
Walking every day shrinks life down to its basic elements. Eat, sleep, walk.
You appreciate the simple things — shelter from the rain and wind, a hot shower after a long day, painkillers and blister plasters, coffee in the first few hours of the day, or a cold beer when the sun is high, local bread and olive oil when you're hungry, an encouraging smile from another pilgrim.
Once you step away and see how other people live, and experience being uncomfortable, or in pain, somewhere you can't control your environment, it's easier to be grateful for what you have and what you will return to. It's easy to take these comforts for granted until we lose them, even temporarily.
I travel partly because it helps me see how insignificant I am on the face of the world, and walking intensifies this feeling as it is so slow. When I look at a map at the end of the day, I see I have only crossed a tiny part of a tiny area in a little corner of the world. I can only move at my pace, which for me is what English walkers call 'bimbling,' a relaxed gait, stopping regularly for photos, notes, or coffee when available. 
When at home, the daily grind of life makes everything feel important and urgent. It's easy to get stressed about a deadline or the emails that pile up, or the jobs that always need doing. Perspective narrows, even as we worry about the bigger things we can't control — the economy, war, disease.
When on pilgrimage, I am just another human walking on the face of the world, a tiny speck in the grand scheme of things, a flash of light, gone so quickly.
The waves of the Atlantic will continue to crash on the shores after my footsteps are washed away. The Cathedral of Santiago de Compostela will welcome more pilgrims after I have gone, the same words of the Mass will be spoken by the next generation. I am comforted by my insignificance, and I can return with a perspective on what is truly important. 
While walking an ancient route like the Camino helps you reflect on mortality, it is almost impossible to comprehend a thousand years of pilgrims walking ahead and many more coming behind. But while I walked, I had a more vivid reminder of memento mori — remember, you will die — as Queen Elizabeth II died. Each day of my Camino was punctuated by snippets of her life on TV in coffee bars and glimpses of newspapers, and I couldn't help but read the UK papers online when resting at the end of the day. 
It was strange to walk outside of my country during such a historically significant week. I remember seeing newly carved statues of the Queen and Prince Philip mounted outside the cathedral in Canterbury on my first pilgrimage in October 2020. The stone was paler than the other sculptures of historic monarchs. The features weren't weathered — and of course, both were still alive. There was a sense of standing next to living history, as another generation passed, and now they are both gone. 
I am not an ardent royalist by any means, but the Queen was a constant across my life as she was for many Brits. As I walked, the news was full of pictures of her as a young woman, then middle-aged going through the trials of life, then an old woman at her husband's funeral, and in her final days, standing bent over and smiling as she welcomed the new Prime Minister, Liz Truss. The span of an extraordinary life against the backdrop of history, much of which I remember over the last 35 years at least. Her life passed by, as will mine and yours. Even a Queen cannot hold back the end.
I walked into Santiago de Compostela on the day of the funeral and I watched her coffin lowered into the vault at Windsor Castle as I rested in my hotel that afternoon. It was a fitting end to my pilgrimage and underscored the sense that something must die for change to happen, and new life can emerge from the ashes of the old.
(2) If you've lost direction in life, pilgrimage can help
A pilgrimage is a clear task with a clear direction. You have a starting point and a destination and if you follow the way-markers and the guide book, you have a route to get there. You might get lost for a short time, but if you keep going, you will reach the end.
Once you are on the trail, whatever that might be, the pilgrim's day is much the same.
Wake up, wash and get dressed.
Check feet, tape and plaster blisters as best you can before putting on socks and walking shoes/boots. Take painkillers if you need to.
Pack your bag.
Eat breakfast, or pick up some food to take for the day.
Walk, maybe alone, maybe with others.
Stop for coffee/food/beer depending on the time of day and facilities en route.
Walk. Rest. Walk.
Arrive at accommodation.
Shower while washing sweaty, smelly clothes.
Hang clothes to dry.
Check feet and dress blisters. Take painkillers if you need to.
Eat dinner, maybe alone, maybe with others.
Rest and sleep.
This daily repetition is a blessing of pilgrimage, as it simplifies life to its basics. You have no purpose but to get up and walk, and if you make it to your destination for the night, you have achieved your goal. The daily difficulties of normal life fade as you deal with the immediate issues of pain and hunger and exhaustion. You sleep satisfied, and tomorrow you get up and do it again.
Pilgrimage creates clear boundaries, and that can be a great comfort in difficult times.
(3) Pilgrimage proves you can do hard things, and that knowledge helps back in your daily life
You need 'starting energy' to plan and organize your trip, to turn it from a dream or a goal into reality.
Many people fall at this first hurdle and you need to overcome obstacles and fears to get even as far as the starting point. You need to book time away from normal life and since most of the Camino routes are a physical challenge, you also need to train in preparation. 
I've been wanting to walk a Camino for more than twenty years, and I only found my 'starting energy' since the pandemic put the brevity of life into perspective. I know how it feels to say 'some day,' but that day will never come unless you make a decision, book a route or a flight, and commit.
Once you begin, you need 'pushing through' energy, especially on the days when you're tired and in pain and emotionally broken and you just want to give up. 
I woke up on the eighth day of my Camino in the village of Oia, Spain. A hurricane had blown in the night before, cutting the power to the village as I lay in bed listening to the violence of the wind and rain. When I woke, it was still dark and rain pounded down outside. 
As I taped my feet and plastered my blisters, I wondered what the hell I was doing. I did not want to walk out into the storm, especially when every step was painful. I still had seven more days of walking to get to Santiago de Compostela, and given the state of my feet, it would only get harder.
But pilgrimage is not a holiday. It is meant to be a challenge — and part of the challenge is not giving up. 
A long-distance walk is a test of stamina. Each day might be a manageable distance in itself, and nothing too challenging for a single day's walking, but day after day — especially on the stones of the Portuguese route — the fatigue and pain compound.
It's easy to give up on the Camino, as you can call a taxi at most accommodation and other places along the route each day. Many people choose to skip a stage and take transport to their next hotel, so the temptation is always there — and if you truly need help, then, of course, you must take it. But I know the difference between the 'normal' pain of long-distance walking and acute 'something is definitely wrong' pain.
At times like these, when the struggle is more mental than physical, I write in my journal. Some might pray, but I find solace and answers in writing. 
I moan a lot and list all the things that hurt and why I want to stop and give up and go home. Then I write about why I am walking and why I should continue. I know this pain is temporary and it will fade, but the pride in finishing will be mine for the rest of my life.
I write my affirmations over and over again: I am strong. I can do hard things. I will finish.
That morning in Oia, I took some painkillers, put on my rain gear, and headed out into the storm.
This 'pushing through' energy will get you to your destination and help you overcome obstacles along the way. Then you need 'finishing energy' to return home and reflect on the experience, to bring the lessons of the Camino to the rest of your life. 
It's too easy to arrive home, put your pack away and your clothes in the wash, then catch up on the inevitable life admin and everything you've missed. By the time your blisters have healed, you may have already forgotten the lessons of the Way, and finishing energy is needed to find the gold and incorporate it into your life. It might be re-reading your journal, or going through your photos and printing those that still resonate. It might be taking action on a decision you made on your walk.
Don't just slip back into life as if nothing has changed. The gifts of pilgrimage take time to emerge so allow space for them.
This episode is part of my finishing energy and I'm also writing a book on pilgrimage, which includes lessons from the Pilgrims' Way and the St Cuthbert's Way in addition to the Camino. It will be out in 2023, so depending on when you're listening, check out www.JFPenn.com/pilgrimage for links.
(4) A fusion of sacred and secular
A pilgrimage is a journey to a place of meaning. The Camino was originally for Christians who walked to the relics of St James to atone for their sin, or to ask for healing or intercession with God, but it is more of a secular experience these days. It certainly was for me, although, of course, if you are a person of faith, you will experience it differently.
I talked to many pilgrims on the Way and not a single one said they were walking for reasons of faith. Many had thought about the Camino for years and saw it more as a physical challenge, or a chance to get away and make a change in their lives. A surprising number had walked parts of it before and returned to try alternative routes and experience the camaraderie of the Camino once again. 
There were elements of the sacred along the route if you looked for them. Roadside shrines to the Virgin Mary saving sinners from burning boats, and later, shrines to St James, sometimes just a carving on a rock, and other times, full-size sculptures and chapels. There were plenty of churches along the Way, but the convoy of pilgrims stopping to get their Credentials stamped made them crowded and noisy. I found more moments of peace in graveyards along the Way than sitting in the nave of any of the churches. 
Santiago de Compostela itself is a busy city with a thriving tourist center and pilgrims are just one type of visitor. The cathedral is packed full at every Mass, of which there are several each day, and there is nowhere to find silence if you crave it as I do. The cathedral's imposing Baroque architecture and the relics of St James in the crypt are a necessary part of the end of the Camino, but I felt more of a spiritual insight in the nearby Monasterio de San Martin Pinario, which was completely empty when I visited. The church was also a cemetery for the Benedictine community, their bodies laid under the stones of the nave, so the living could remember them and reflect on the inevitability of their own fate. 
I found the Camino more of a physical journey than a spiritual one, partly because it was busy, so there was little time to walk alone and think as I did on the St Cuthbert's Way. At the end of a day's walk, it was about washing off the sweat and changing smelly clothes, attending to seeping blisters and spraying antiseptic on open wounds, resting swollen aching feet, finding food, and sleeping.
The needs of the physical self overwhelmed the spiritual, but then we are embodied souls. The physical is how we experience life, even an occasional glimpse of the divine.
(5) The Camino is an industry — and it always has been
The Camino de Santiago has waxed and waned in popularity and now several hundred thousand walk the different routes every year. It is not a wilderness walk unless you choose the early stages of the Via de la Plata, which are far less developed.
There will be people, sometimes lots of them, and there were moments on the Way where I was literally part of a long line of pilgrims. Many only walk the last 100km, which you need to complete to get the Compostela, so those last few days in particular are really busy. 
The pilgrim industry starts with getting the Credential, which you can buy at many of the starting points and also online before you go. You have to get stamps along the Way from churches and hostels, hotels and restaurants, and inevitably, this results in queues even in out-of-the-way places. There are pilgrim menus at cafes, often very good value, and if you stay at albergues, there are even organized opportunities for socializing with other pilgrims. 
There are two possible attitudes to this industry. You can resent the intrusion of so many people and the overt commercialism, and pine for a solo, spiritual pilgrimage — or you can embrace it and join in wholeheartedly. 
I did the latter and considered it part of supporting the local businesses that play an important part in the Camino experience. I appreciated comfortable accommodation, pharmacies, and supermarkets, as well as coffee shops, restaurants, and bars along the Way. However, I did stop in some sections to let waves of chattering pilgrims pass, and I relished moments of quiet walking when I didn't see another person for a while, mainly when I left before sunrise a few mornings.
My favorite day's walk was Baiona to Vigo, or at least the first 20km of it. The main Camino route went through the hills, but there was a slightly longer alternate route following the coast north. I chose the coastal route, which was barely way-marked, but by keeping the sea on my left, it was easy enough to navigate along paths and boardwalks. 
I left Baiona in the dark and walked north as the dawn broke over the coastal wetlands. Wading birds picked their way through the shallows and finches darted between bushes on the shore. The path followed alongside almost deserted beaches. It was a cool autumnal weekday morning, so there were just a few dog walkers on the sand. There were heavy clouds overhead, and the wind blew rain in later that day. I saw a few pilgrims but mostly I walked alone, happy to have taken the alternative route, to step out of the stream of pilgrims even just for a day.
(6) Your Camino, your way
When people say they have "walked the Camino," it can mean many things, and if you want to walk (or cycle), it's important to consider what you want your Camino experience to be. We all have different definitions of challenge, and also different capabilities at different times in our lives. 
There are various Camino routes you can choose depending on how much time you have and how far you want to walk. You have to walk 100 kilometers to be eligible for the Compostela, but the longest route, the Via de la Plata, is nearly 1000 kilometers. The Frances is nearly 800 kilometers and is the most popular and busy route, but there are also short routes like the Ingles if you have limited time, or you can do the final stage of the longer routes.
There are many companies who can organize and book accommodation for you, or you can walk independently and stay in hostels/albergues along the way. You can carry your own pack or get luggage transfer and carry a day pack. The time of year will also affect your experience, so you can see how the challenge can vary depending on these practical elements. 
While I originally wanted to walk the Frances route, made famous by countless books and the film The Way, I couldn't be away from my business for the time needed to complete it. I decided on the Portuguese Coastal route, still a challenge at 14 days of back-to-back walking, and considered much quieter than the Frances.
I carried my own pack and walked the whole route. I booked through Macs Adventure and had a private room each night in hotels or B&Bs. I like to know where I'm sleeping every night, and I didn't want to deal with shared bathrooms and snoring. 
Those were my choices, and they shaped my Camino. Many people, including pilgrims in their 70s, overtook me during the day carrying day packs, and certainly, getting luggage transferred is a good way to make walking easier.
Every pilgrim is different, and it is easy to end up comparing situations. You might pass a tired and limping pilgrim one day, only to end up like that yourself another day. You might wish your pack was lighter, or you might judge others for 'only' walking five days instead of a longer route, or you might judge yourself for not being fit enough, or for not looking after your feet and getting blisters, or for carrying too much stuff.
But no pilgrim is 'better' than another. We all have different reasons to walk, and different challenges along the Way. Keep your eyes on your own path. 
Practical considerations and tips
In terms of training, I regularly walk 20km with a day pack and I also do weight training, so I have strong legs and no issues with my knees or back. 
This was my third multi-day solo pilgrimage walk, but it was also much longer than anything I have done before. I knew I could do six days back-to-back walking in bad weather, but on reflection, 14 days was difficult, even though there were some shorter days in the middle. I should have scheduled a rest day and certainly recommend one if you are carrying your own gear for weeks at a time. 
I've done plenty of long walks without getting blisters in the same walking shoes, but after one long, hot and sweaty day walking on rocky uneven ground, I started getting sore spots and they compounded into blisters over subsequent days. I ended up taping my feet and hobbling the last few days, but the many pharmacies along the way are used to pilgrims, and you'll find painkillers and blister plasters front and center in them all.
I've listed my gear in a separate article, and I was pleased with my Osprey Sirrus 36-litre backpack. I didn't get any bruising on my hips and no back pain, so it wasn't too heavy at around 8kg (plus water during the day). I made the mistake of a heavy pack on the St Cuthbert's Way and paid the price! I was also grateful for my walking poles (LEKI Womens Micro Vario Carbon Trekking Poles), as the Portuguese route is rocky and uneven in places, plus they helped this tired and wobbly pilgrim keep going in difficult times!
During the day, I took pictures and wrote little notes in my phone, and then every morning, I woke early and wrote up the notes from the day before. If you want to reflect on your experience later, definitely keep notes and take photos as you walk. On a multi-day trip, the days blend together as the routine of pilgrimage shifts the passing of time in some strange way. 
Schedule time before you leave to prepare, both practically and also to shift out of your busy normal life into 'pilgrim time,' which is a slower, more reflective pacer. 
You'll also need to schedule time when you return to ease back into things. Have at least a day in Santiago de Compostela to look around and attend mass, but also keep your schedule clear back home. I was exhausted and needed to rest the first few days, but also I found I couldn't just jump back into busy work and meetings and noise. I needed some reflection time before ramping up to full speed. I'm writing this a month after returning, which has given me some space to reflect, and my blisters are all healed too.
(7) I needed these last years of walking alone across a seasonal change in my life
I did my first solo multi-day pilgrimage, the Pilgrims' Way in October 2020 between pandemic lockdowns, which I talked about in episode 50: This too shall pass. 
I walked the St Cuthbert's Way alone in October 2021 when I was still recovering from Covid, and I have walked alone for many days in training. I love my husband, Jonathan. He is my best friend and we walk together a lot — but I needed those times to walk alone.
The pandemic lockdowns made me feel like a bird bashing its wings against the bars of a cage as I talked about in my lessons from the Pilgrims' Way. I walked myself into submission over that time and the pilgrimage helped calm my anger and frustration and grief at everything going on in the world and my inability to change it. 
These last two years have also been a time of change physically and emotionally. I'm 47 as I record this and I'm still in the hormonal rollercoaster of midlife which has impacted my sleep and mental health and, compounded by the pandemic, has made the last few years pretty tough. I had terrible insomnia for most of it but am grateful that has now been fixed by HRT patches, which have been truly life-changing for me. HRT is not for everyone, but I recommend reading Menopausing by Davina McCall if you or anyone you love is struggling through this phase. 
These long walks have given me so much during difficult times. I am goal-orientated and completing a pilgrimage route is a clear physical goal that you can tick off and feel a sense of accomplishment in finishing. I walked alone and proved to myself that I can do hard things, that I can walk through pain, that I can walk in all weathers, that I can deal with things going wrong and I can cope with my fears along the way. I have proved to myself that I am resilient and that has felt like an important thing to prove at this time of my life.
Many people walk pilgrimage at a time of change — out of a need to reset, or change jobs, or recover from grief, or find an answer to a question.
The Camino alone was not about changing my life and in fact, it made me realise how grateful I am for what I have in my creative business and happy marriage. But the three pilgrimage routes together over the last two years have certainly been a path of change through a rocky period in my life, and in the world in general. It feels like the end of one season and the beginning of another. Perhaps that's just one of the gifts of middle age, but regardless, walking the Camino was the completion of a life goal and it closed one chapter so I can begin another.
You can find more reflections in my book, Pilgrimage, which combines aspects of the emotional and spiritual journey with practical tips which will hopefully help you if you are considering such a trip. You can find more details at jfpenn.com/pilgrimage.
I'd love to know what you think about this episode, or hear about your experiences from your own pilgrimage, or if you'd like to ask any questions, please leave a comment, or tweet me @thecreativepenn.
Buen Camino!